A Legacy of Possibilities
Beginning in fall 2019, Fresno Pacific University celebrates its 75th year. Graduates, students, faculty, administrators, staff, board members and supporters past and present can be proud of what we have accomplished and welcome what is to come. Our history is a legacy of possibilities that invigorates our faith and our resolve. We look to the future to see how our graduates will explore new pathways with hope, courage, knowledge and faith. We remain confident that: "with God all things are possible."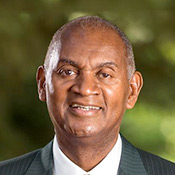 Joseph Jones, Ph.D.
President
Gather 2019
Thursday, September 5, 2019 | 4:00 p.m.
Special Events Center | Fresno Pacific Main Campus
Celebrating 75 years of God's faithfulness to Fresno Pacific, the Central Valley and beyond - a call to seven weeks of worship and prayer to support. A family-friendly after party on the Green to follow.
Reserve your free dinner ticket(s).
Fresno Pacific 75th Birthday
Wednesday, September 18, 2019 | 1:30 - 3:00 p.m.
Alumni Plaza | Fresno Pacific Main Campus
This day marks our actual birthday and we're celebrating on all our campuses! Take time to connect with your FPU community as staff, students and faculty are invited to stop by to enjoy goodies and join in the celebration of our 75th birthday! Dutch Bros. Coffee will be joining in the birthday fun and will be on campus offering a variety of coffee drinks available for purchase.
Anniversary Gala
Saturday, November 2, 2019 | 5:00 p.m.
Special Events Center | Fresno Pacific Main Campus